---
Love beyond boundaries: Dr. Allan Carswell celebrates his wife Helen's achievements
Allan Carswell remembers vividly the moment he and his wife Helen started to fall in love.
The pair had known of each other through high school – she was interested in music, and he in math and science. But it wasn't until he walked her home after a Halloween party in 1951 that Dr. Carswell thought of her as more than a classmate.
"I finally worked up the courage to phone her a week after that party to ask if she wanted to go out," he recalls. "And she said yes!"
That was 68 years ago. The two have since gotten married, had three children, made significant scientific discoveries, pursued a multitude of philanthropic endeavors, and built a successful international business.
Dr. Carswell is a professor emeritus of physics who, while at York University, led the development of LIDAR systems, which use light in the form of a pulsed laser to measure distances.
In 1974, the couple established Optech Incorporated, a company that focused on developing LIDAR. Operating out of their family home as the sole member of staff for a number of years, it was Helen who oversaw the transition of Optech into a highly successful business enterprise with over 300 staff. A leading partner in the business, Helen's impact extended beyond national boundaries – across all seven continents, on Mars and in space.
And in that time, they've overcome challenges and braved the odds to deepen the love and respect they have for one another.
But there's one battle that Dr. Carswell and his wife have been fighting for 20 years – and it's one that he knows they won't win.
For many years, Helen has been battling Alzheimer's disease, and has suffered diminishing cognitive capabilities.
"There came a time when we just had to accept it," Dr. Carswell says. "We had to accept that Helen had an incurable disease and that there was nothing we could do."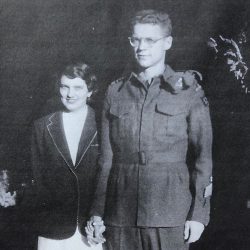 Over the years, the disease has worsened.
"Since 2012, Helen has been unable to stand, speak or do anything for herself," Dr. Carswell says. ­­­
But the couple has been luckier than many others, notes Dr. Carswell.
"In recent years, we have had amazing support from the Alzheimer Society of York Region," Dr. Carswell says. "And that's why establishing this partnership is so important to us."
On September 17, in honour of Helen Carswell and World Alzheimer's Month, York University and the Alzheimer Society of York Region announced a joint $2.26M partnership to research Alzheimer's and dementia care programs, funded by the Carswell Family Foundation.
York University President and Vice-Chancellor Rhonda L. Lenton thanked Dr. Carswell and his family for their important gift.
"This new partnership between York University and the Alzheimer Society of York Region will enable us to lead the way in dementia care research and its application. By collaborating with partners in the community, we are able to combine our strengths and expertise, greatly increasing the impact of our work. Importantly, the partnership also provides research opportunities and other types of experiential education for our students, enhancing innovation and better equipping them to serve our communities in the future," said Lenton.
This new infusion of funds will create: an endowed Research Chair in Dementia Care; graduate Research Fellowships in Dementia Care; and a research program to evaluate Dementia Care Programs and share key findings.
"We're excited York University is establishing a Chair in Dementia Care," says Loren Freid, CEO of Alzheimer Society of York Region. "This validates the cause and will help so many people."
"We hope this new partnership will further validate the good work that gets done in our programming and will help support future initiatives," Freid says. "And with the graduate students and the Endowed Chair, this research will provide a thorough expertise in dementia care that can be shared across the province and the country."
For Dr. Carswell, this gift is about more than that. It's a way to honour and celebrate Helen – a kindhearted woman, an entrepreneur in her own right and his loving partner of 68 years.
Even though Helen isn't always fully aware of what's happening, the pair still continue to celebrate milestones together.
"We've just celebrated the birth of our first great-grandchild," Dr. Carswell says with a laugh. "We're all so excited!"
---
Learn more about how we're Preparing Engaged Global Citizens