---
Ten years of impact in the Black Creek community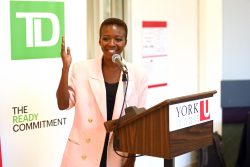 When Abena Offeh-Gyimah dreamt up her small business serving the Black Creek Community, the first place she turned for support was the TD Community Engagement Centre.
Abena's business, Adda Blooms, offers the community native foods from Africa while building ethical relationships with farmers, cooperatives and collectives that enhance food sovereignty. And for her, the support she received from the TD CEC was the key to her success.
In June, York University and the TD Bank Group celebrated a decade of impact at the TD CEC and announced a significant infusion of $1 million to the centre from the TD Bank Group.
Located in the heart of the Black Creek Community at Yorkgate Mall, the centre is a satellite office of York University that strives for academic innovation through community building, fosters post-secondary attainment for Black Creek Community, and seeks collaborative research and partnerships.
Since the TD CEC opened its doors in 2008, it has served nearly 70,000 people from the Black Creek Community and has become a catalyst for breaking barriers and changing stereotypes.
TD Bank Group's new contribution recognizes the accomplishments of the TD CEC in the Black Creek Community and supports a new approach focusing on career exploration and bridging programs through training and reskilling.
The generous contribution was made through the TD Bank Group's corporate citizenship platform, The Ready Commitment, which is targeting $1 billion towards community giving by 2030 in four key areas, including financial security. This new commitment will support residents' shift from precarious work to promising career opportunities.
"The skills needed for jobs today are vastly different than five years ago," says Norie Campbell, TD Bank Group Head, Customer and Colleague Experience and York alumna. "It is critical that there are resources and places where individuals can seek assistance to learn and upskill to thrive in the economy. I'm so proud of the work that the TD CEC is doing – offering programs and leadership to ensure that in-career workers can feel confident about their future."
---
Learn more about how we're Preparing Engaged Global Citizens