With the support of alumni, donors and friends, more than $350 million has now been raised towards the $500 million goal of Impact: The Campaign for York University. This is approximately $80 million more than the progress made at the time of the Campaign's public launch last year.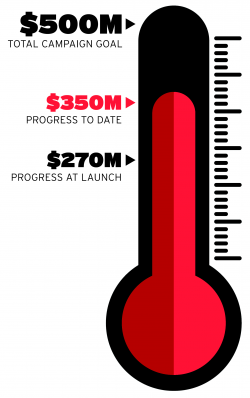 "The York community has rallied behind the Campaign in a truly extraordinary way—and unlike anything we've seen before," said Mamdouh Shoukri, president and vice-chancellor. "Our alumni, donors and friends have provided tremendous support for York and our students. Through the generosity of more than 35,000 donors, we have accelerated our growth considerably, including increasing financial supports for our students to improve accessibility and enrich their learning experience, providing our students with world-class learning environments, expanding and enhancing our research and teaching infrastructure, and investing in the minds and the tools we need to become a national and global leader in research and academic programming."
In addition to York's fundraising goal, the Campaign also aims to double the number of alumni engaged in making a difference in the lives of students and in the communities the University serves.
"With more than 300,000 York alumni living and working in more than 170 countries around the world, these are our University's most important ambassadors and a key element to the future of our great institution" said Jeff O'Hagan, vice-president advancement. "Over the course of the Campaign, we have made strong progress towards encouraging, supporting and celebrating alumni philanthropy, building connections between our alumni and our students, and strengthening York's institutional reputation through our global alumni network. The success of the University can be measured by the success of our alumni and, as our efforts continue to expand, we will continue to foster a highly connected, highly engaged alumni community at York."
Alumni giving has been increasing at all levels. More than 44,000 alumni have made donations to York, while more than 75 per cent of the 35,000 donors to this Campaign are alumni. As well, more than 78,000 alumni have some form of engagement with York through a number of strategic efforts, including events, communications, benefits, services, mentorship and more.
To learn more about Impact: The Campaign for York University, and discover ways you can be a part of the impact that has already been achieved, visit the Impact website homepage.