---
"It's not just an award, it's a community": Pocock award bringing people together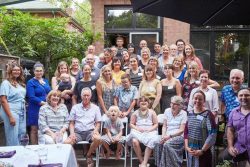 When Don and Donna Pocock lost their daughter Adrienne in a tragic accident in 2004, they were left reeling.
As the couple thought about a way to honour Adrienne's life, setting up an endowment to support students at York's Faculty of Environmental Studies was a natural fit.
A staunch grassroots environmentalist, Adrienne cared deeply for the planet and was always advocating for us to take better care of our world, Don says.
"We wanted to do something that honoured who Adrienne was and also find a way to help other people at the same time," Don recalls. "An endowment fund to support students at the Faculty of Environmental Studies was perfect."
The idea received widespread support from the Pococks' community, and others wanted to get involved. But what the Pococks built goes far beyond the mere financials.
When the fund was first established, nobody would have thought that this tragedy would lead the way in forming not just an endowment fund — but a new community rooted in gratitude, deep respect and mentorship. When Don's wife, Donna passed away in 2015 the award was renamed to remember her as well.
For Don, this new community, now 45 students strong, has given him an opportunity to connect with students who are passionate about the environment. Every year, the Pocock family host a barbeque at their home and invite the students to join in. And after Donna passed away this annual event continues to be a highlight of the summer for the Pocock family and the students.
"I feel a strong connection to my daughter through these students," Don says. "Every year we get together and we share stories about what we're doing, what we're working on and just how life is going in general."
Don's interest in the students' success means the world to former recipients like Mitch Harrow.
"I am so grateful to Don – that goes without saying," Mitch says. "It's truly amazing what he does – and his guidance, mentorship and support means everything. It's not just an award, it's a community."
---
Learn more about how we're Mobilizing New Ways of Thinking